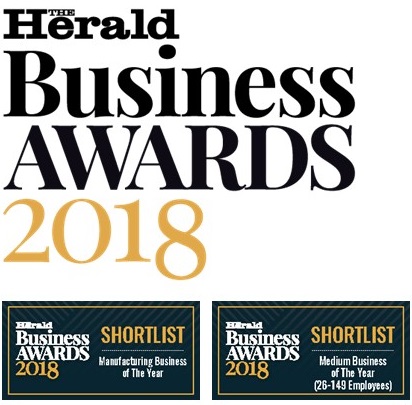 Double Shortlisting in Herald Awards
We are delighted to announce a double shortlisting in the Herald Business Awards 2018.  Aldermans has been shortlisted for both the Manufacturer of the Year award, and Medium Business of the Year.
"After many years of working hard on developing the business, it's gratifying to see this recognised with these award shortlistings," commented Managing Director Karen Friendship.
"The whole team here were particularly keen to enter these awards.  As a Plymouth company, employing Plymouth people, it's very important to us to remember and celebrate our contribution to our home city.  Plymouth is an excellent place to do business; and we work with a diverse mix of incredible international companies who are based here.  Plymouth companies truly lead the way in technology and manufacturing excellence, which makes these shortlistings all the more satisfying." 
The last twelve months has seen Aldermans invest in new machinery, most notably a new fibre laser with tower, to complement our existing C1 punch-laser.  This step-change in automation and process has increased our capacity, and allows us to cut thicker sheet material, swiftly send programs to the machine, and operate lights-out, helping to deliver quick lead times for customers.
A crowning glory of 2017 was being accredited for ISO 14001:2015 environmental management and OHSAS 18001:2007 health & safety management, and upgrading our ISO 9001 quality management registration to the latest 2015 standard.  We also achieved Fit For Nuclear status, recognising our readiness to tender for work in this sector.
We have continued to invest in staff, with a further cohort participating in the NVQ 2 apprenticeship in business improvement skills.
All these achievements are backed up with sound financial performance over many years.
The award winners will be announced at a ceremony to be held at Plymouth Pavilions on 19th April.