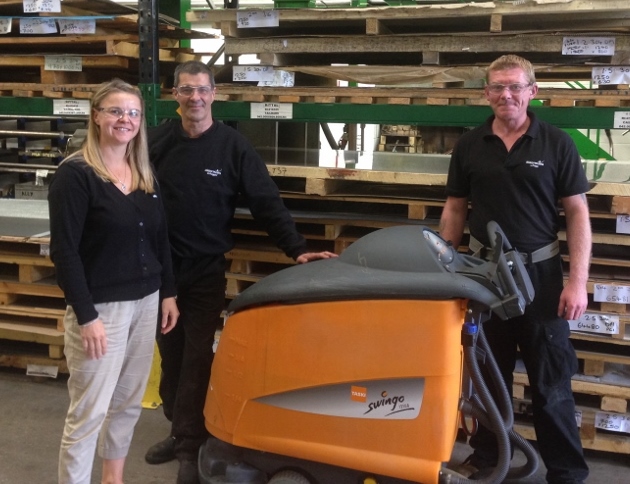 Mark's story: how Aldermans benefitted from supporting the Ready for Work initiative.
Five years ago Aldermans became involved with the Ready for Work programme, a national scheme to help disadvantaged people enter employment. In this inspiring story, we share how our involvement has benefitted the company and two members of our team.
Five years ago Aldermans became involved with the Ready for Work programme, a national scheme to help disadvantaged people enter employment. 
Masterminded by the national charity Business in the Community, Ready for Work operates in several cities across the UK, including Plymouth.  It has now supported over 7,900 people nationally since 2001.
Our MD Karen Friendship came in contact with the local Ready for Work delivery partner, Shekinah, while participating in a Common Purpose leadership course.  This course broadens management perspective and develops a wider vision for the business in the context of people and the community.
Initial four-week work placement 
Inspired by what she had encountered on the course, Karen began to explore the possibility of taking on a Ready for Work candidate on a four-week placement at Aldermans.
"I confess I was slightly hesitant at first – as I suspect many business leaders would be," Karen recalls.
But Karen wasn't the only hesitant one.  The Ready for Work candidate – Mark – was sceptical about what he might gain from a placement he saw as just 'working for free'.
Before his referral to the Ready for Work programme, Mark had led quite a hectic and stressful lifestyle in Plymouth. He found it difficult to maintain his commitments and moved from one support service to another. He hadn't worked for over two years.  However, his keyworker at Shekinah encouraged him to try the placement, and he underwent a pre-employment training programme and coaching to help him prepare.
Gaining permanent employment
Mark surprised himself by really enjoying his placement with us.  Having a role and responsibilities and feeling part of a team gave Mark a huge boost of confidence, helped by the support provided by his 'work buddy' who helped him settle into the team.
We were also deeply impressed with Mark's contribution, dedication and worth ethic – so much so that we offered him a three-month probationary contract when his placement ended. 
A positive outcome
Nearly five years later, Mark is still a valued member of our team.  He has implemented new industrial cleaning regimes within the factory, and helped in the decision-making process for new cleaning equipment and machinery.
Most importantly, he has regained his self-worth, and once again feels part of society.  He has severed unhelpful relationships in his life, and re-established positive relationships with his family.
Mark commented, "If I had walked through Shekinah's doors at the age of 19 my life would never had taken the destructive turns it did.  Shekinah and Aldermans took a chance on me and I am so grateful for that."
Our next Ready for Work candidate 
Mark's story has been such a positive one, that we have now taken on another Ready for Work candidate, Darryn.  He has already had an equally positive work placement with us, and we're delighted to have given him a six-month contract to support our production team.
Reflecting on the process, Karen commented: "This has been an overwhelmingly positive experience, both for Aldermans and the individuals.  This process has been an important opportunity for us to contribute to the Plymouth community, the place which has helped our business thrive over the last 45 years.  We have been able to help two people change their lives for the better – and they have brought tremendous qualities and benefits to us, too.  I would certainly encourage other local companies to explore and support this very worthwhile scheme."