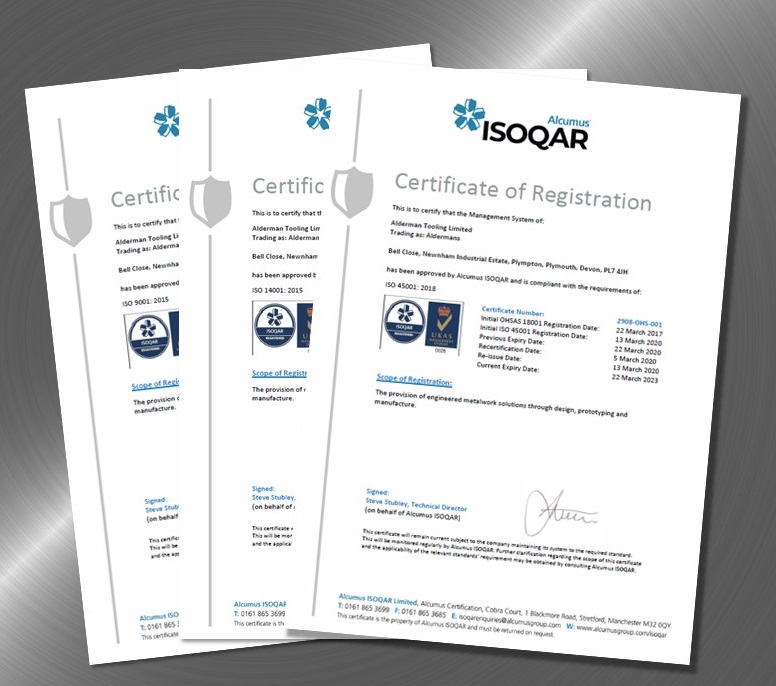 Aldermans achieves ISO recertification, plus new ISO 45001 standard
Aldermans is delighted to announce that is has retained its registration to the ISO 9001:2015 quality management standard and ISO 14001:2015 for environmental management, following a successful major audit during the first week of March.
We had also previously held OHSAS 18001:2007 health & safety management certification, but as part of the same audit we have now successfully migrated to ISO 45001:2018, the latest standard.
We first achieved ISO 9001 quality management certification in 2002, adding environmental and health & safety management in 2017 to give us accreditation to three world-class standards – a proud achievement.
During this three-year recertification process every part of the business was extensively scrutinised by Gerry Staunton and Phil Goodland, Lead Auditors for the Alcumus Group, which provides our certification services.
"This was an excellent recertification for ISO 9001 and ISO14001 as well as the migration to ISO 45001:2018," they observed. "The system is now fully compliant to the three standards and very effectively being controlled. There is clear and visible interaction between the management teams and the rest of the workforce with plenty of participation being recorded throughout. The system itself has up to date policies and procedures as well as excellent monitoring, measuring and results linked to KPI's and objectives for the company. Provision of service is well controlled from sales enquiry through to completion, delivery and feedback. Overall this was seen to be a well-established system that has been in place for several years now. The health and safety area is very well-managed as shown and complies to the new ISO45001:2018 standard very effectively."
Aldermans Managing Director Karen Friendship commented, "The whole Aldermans team are to be commended for an excellent audit – in particular Tony McEwen our Quality Supervisor who has now successfully steered the company through two significant transitions in audit standards over the past few years. This is a testament to our great teamwork and our ability to change and adapt."