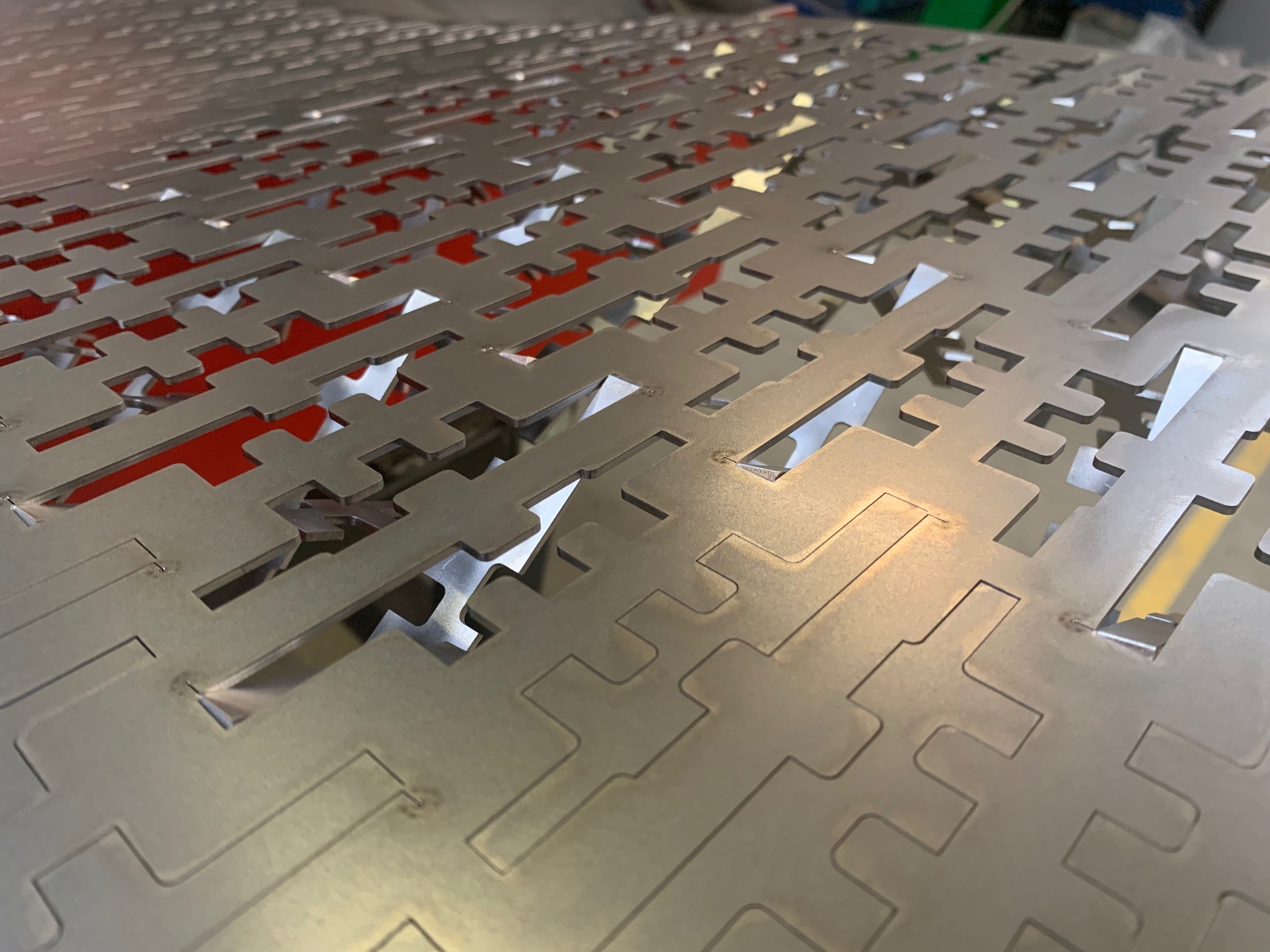 Laser cutting or punching? How to choose.
by Karen Friendship, Managing Director
When you wish to create a shape or hole in sheet metal, there are two commonly used approaches – laser cutting and punching. In our factory we offer both. Our Amada CNC Fibre Laser cuts up to 20mm thick sheet material and has an automatic sheet loading tower for speed and efficiency. We have an Amada EMZ Turret Punch, also with an automatic sheet loader. Plus, we have a machine that provides a combination of punching and laser cutting, our Amada C1.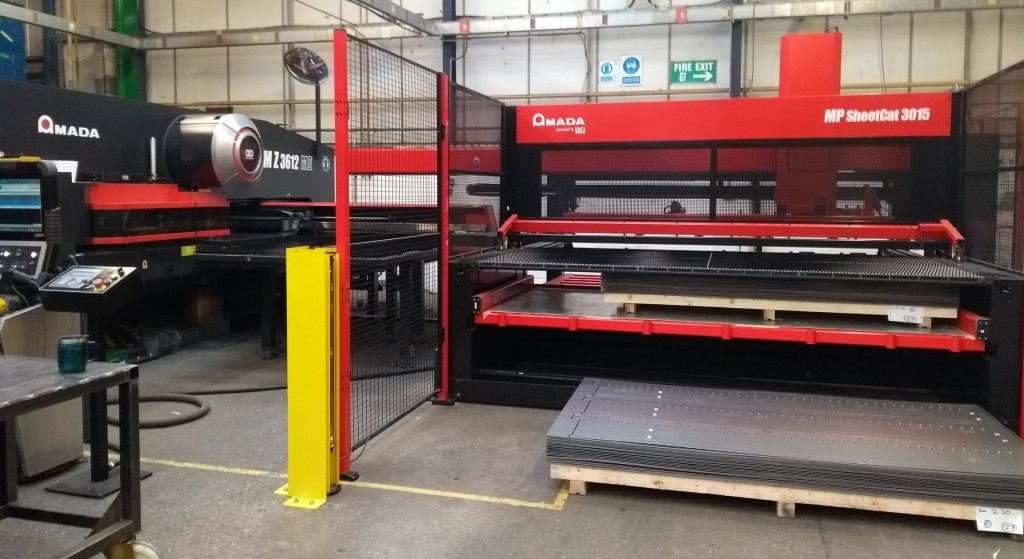 So how do you determine whether a piece should be laser cut or punched? Which is the best approach? The good news is that you don't have to be the expert: we usually make a recommendation to our customers based on the characteristics of the job, to ensure they get the results and the lead time they desire.
Here are a few of the questions we take into account when considering laser cutting versus punching.
1. How many holes or shapes are being cut? It's usual to laser cut around the edge of a part and punch the hole in the middle – that's where our Amada C1 punch-laser combination comes into its own. However, if the holes are irregular shapes, then laser cutting everything may be more efficient. For multiple holes of regular shape, punching is always more efficient, more cost effective and more accurate.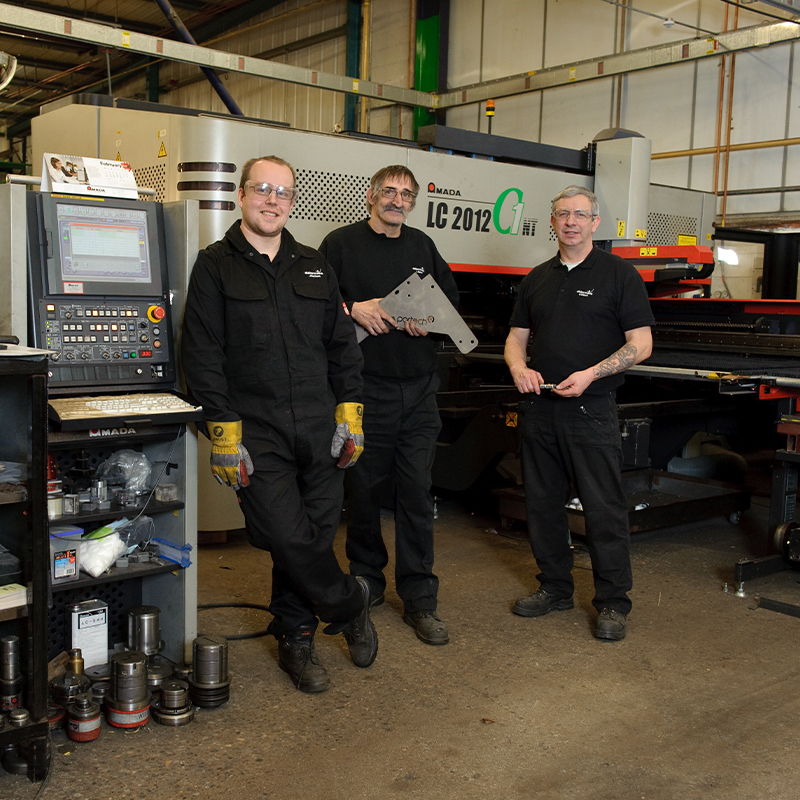 2. Are the holes in common sizes? We have a vast range of punch tools in the usual sizes, so we can easily handle most punching jobs; and punching is generally quicker, particularly if there are multiple holes. But if the hole size or shape is unusual, then laser cutting gives the necessary flexibility. If the hole needs to have a screw thread incorporated ('tapping'), we can do that on either the C1 punch-laser or turret punch.
3. What's the production quantity? Every process has an element of set-up time. We consider which process is going be the easiest, quickest and most cost-effective to set up for the particular job, given the required quantity. If it's a small quantity, laser cutting is often the answer. Our CNC laser cutting machines use sophisticated software to ensure the maximum yield from each sheet, and fast transfer of programmes to machines to minimise set-up time.
4. What's the thickness of the sheet material? Our Amada CNC turret punch can punch holes in sheet material up to 6mm in thickness. However, our Amada Fibre Laser Cutting Machine enables us to laser cut mild steel sheet up to 20mm thick. If we need to reduce the thickness of the metal, both our C1 punch-laser and turret punch can do that using a process called extrusion.
5. Are burrs a problem? Punching can create a small burr on the opposite side of the metal. Burrs are small lumps of metal around the edge of the hole, which can be rough or sharp to the touch. They are caused by shear and 'breakaway' when the removed hole ('blank') breaks away from the sheet metal. The thicker the sheet material, the larger the burr. However, the top face of the hole will have a rounded corner, called a 'rollover edge', which may be desirable. For some clients, burrs aren't a problem (and if they are, we have a deburring machine!). But if the piece is going for further processing, is going to be manually handled and will not be powder coated, then laser cutting will produce a clean, straight cut, without the rollover edge or burrs.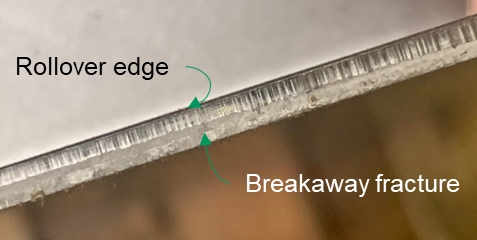 6. Will it be powder coated? Powder coating adds a layer of paint to the piece. This means that the profile of the original cut is less critical, and small burrs will not be so noticeable.
7. What's the lead time? We've invested in several time-saving pieces of machinery to help us achieve swift lead times. For example, our Amada C1 punch-laser includes a part-picker which automatically collects, stores and stacks laser cut parts without needing to stop the machine. We've also invested in automatic sheet loaders on our three machines. The fibre laser can process up to 9 tonnes of sheet material without supervision (enabling 'lights-out' running on a late shift). Similarly, the C1 punch-laser and the turret punch can each process 3 tonnes automatically. With three CNC machines to choose from, if there's a large production run on one, we can usually find space on another. For rapid turnaround jobs, we can find the quickest route through the factory – and the technology is also there to help us, whichever process we use.
8. What's the budget? All other things being equal, tighter budgets tend to favour the punching process.
Our versatile range of in-house metal fabrication processes simply means we have flexibility to serve customers well, and we will always find a way to provide the quality, lead times and prices our customers have come to expect.