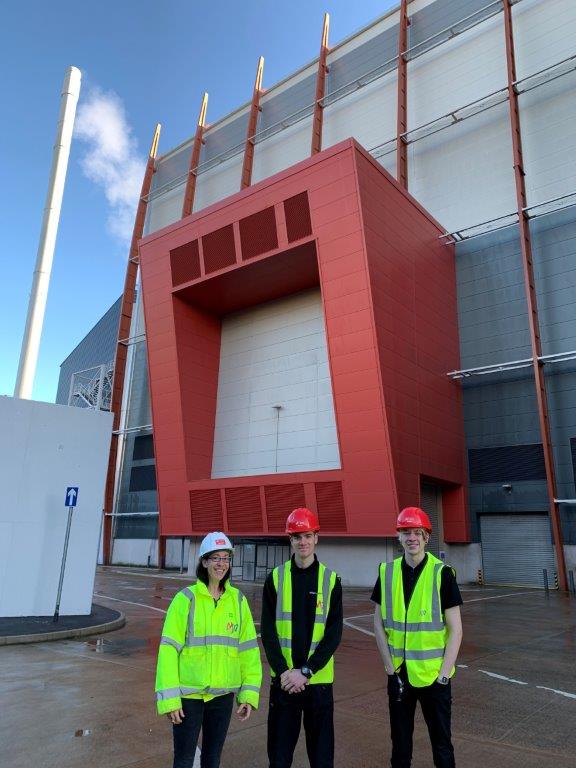 MVV sponsorship benefits Will and Felix
An apprentice sponsorship scheme run by an energy company is helping provide additional training support for two Aldermans apprentices.
MVV Environment Devonport Ltd, a UK subsidiary of German energy company MVV Umwelt, operates the combined heat and power (CHP) Devonport Energy from Waste Facility. Operational since 2015, the plant generates energy from waste from across Plymouth, Devon and Torbay which cannot be recycled or composted – some 245,000 tonnes per year. The high-efficiency process captures as much energy as possible while controlling emissions, sending electricity to the national grid and HM naval base Devonport, as well as supplying steam to the Dockyard's heating system. The CHP process is commonly used in mainland Europe, but less so in the UK; hence the success of the Devonport plant is a significant achievement.
As part of its operational agreement with Plymouth City Council, MVV provides funding for five local apprenticeships per year, as well as offering work experience and placements. We are delighted that two of our apprentices, Will Williamson and Felix Bowker, are beneficiaries of this scheme. The sponsorship – up to £3,000 per apprentice per year – will help to fund specialist training and support. Both apprentices are required to produce a development plan, in conjunction with Aldermans.
On 10th December Will and Felix were welcomed at the MVV plant in Devonport by Jane Ford, MVV's Community Liaison Manager, for a tour of the facilities, accompanied by our Production Manager Tony McMinn.
"We are delighted to have received this additional support for our apprentices and thank the MVV team both for the funding and the opportunity to visit and see the engineering in action," commented Aldermans' Managing Director, Karen Friendship. "It's great to see large organisations working with the business community to support the future of engineering in the city."
For more information on MVV's Devonport plant visit https://www.mvv.de/en/about-us/group-of-companies/mvv-umwelt/shareholdings/mvv-environment-ltd
---
You may be interested in: