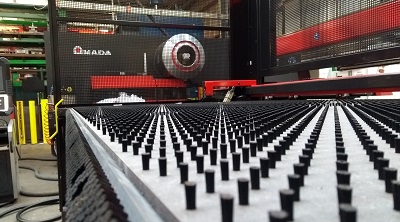 Punched parts, pronto! – thanks to our new automatic sheet loader
In another significant factory investment, we have increased our CNC punching capacity thanks to the addition of a new automatic sheet loader for our Amada EMZ Turret Punch.
The Amada SheetCat 3015 easily handles 3000 x 1500mm sheet metal and can store up to 3 tonne of material allowing a continual supply of raw material. It is perfectly compatible with our turret punch which has the ability to reposition these larger sheets and can punch up to 6mm thickness. This allows for greater accuracy of punched parts and safer handling of sheet material.
Until now we have been limited by the speed and changeover of each sheet and the safety of handling the larger and heavier sheets which has often been a two-person job. However, with the SheetCat we can now process a 3-tonne stack of full-size sheets automatically. Programs are pre-loaded allowing for larger production runs or multiple jobs to be punched without constant supervision so can be run on a late shift ("lights out"), when required. This increase in capacity means faster, more efficient production, and therefore shorter lead times for customers.
The CNC turret punch itself has been operational since October 2018 and has proven to be a sound investment. It has released capacity on our Amada C1 punch-laser combination and enabled us to take on additional punching work for certain customers.
The investment in the turret punch and sheet loader follows a series of key strategic purchases in recent years, including our new fibre laser cutting machine with automatic sheet loading tower; powerful new press brakes; and a second CNC automatic bar-fed lathe. Along with our skilled fabrication department, in-house toolmaking, and our own powder-coating line, we are proud to now offer one of the most capable and comprehensive metal fabrication services in the South West.
---
You may be interested in:
Explore our laser cutting department