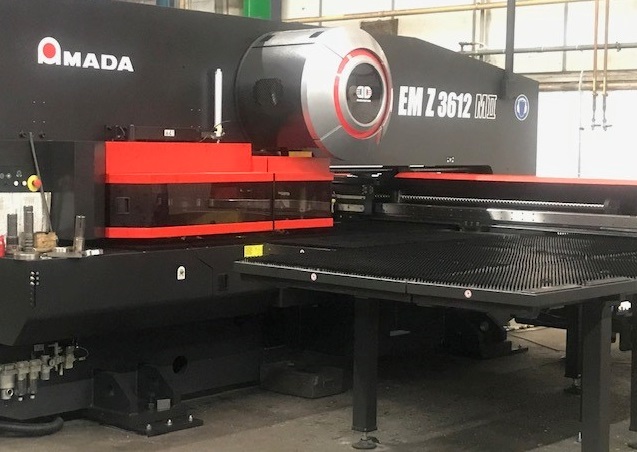 Aldermans commissions new Amada turret punch
We are delighted to announce that we have further invested in our suite of metal fabrication machinery by adding an Amada EMZ 3612 MII Turret Punch Machine.
This super-efficient machine enables us to dramatically increase our capacity for punched parts, and the speed with which they can be produced.  It will also free up capacity on our Amada C1 punch-laser combination, so we can use this impressive machine to its maximum advantage.
The Amada EMZ 3612 MII Turret Punch allows sheet metal of up to 3000mm x 1500mm to be punched and tapped without repositioning the sheet.  This not only speeds processing but also makes programming simpler, helping to ensure speed and quality of production.  Set-up time is also reduced, as dies can easily be changed from the Z turret.  Its 30-tonne capacity allows for heavier punching and forming force.
"For Aldermans' customers, this means swifter production of punch-only parts, to the superb quality they expect", commented Managing Director Karen Friendship.  
"This is another significant and exciting shop floor investment for Aldermans.  It is part of our ongoing programme to keep us at the peak of metalwork engineering in the South West, particularly as we are shortly to enter our 50th year of business." 
Several older, under-utilised machines which have been part of that 50-year journey have made way for the new turret punch in Aldermans' press shop.
"As all manufacturers know, every square foot of space has to generate value for customers and return on investment for the business," Karen continued.  "Making this change increases our capabilities for a wider range of customers."  
The new turret punch is a good environmental choice too, as its electro servo drives give it a 70% power saving over traditional hydraulic machines.
To arrange a visit to see the new machine in action, or to discuss your next quote for punched metal parts, contact us on 01752 201200.