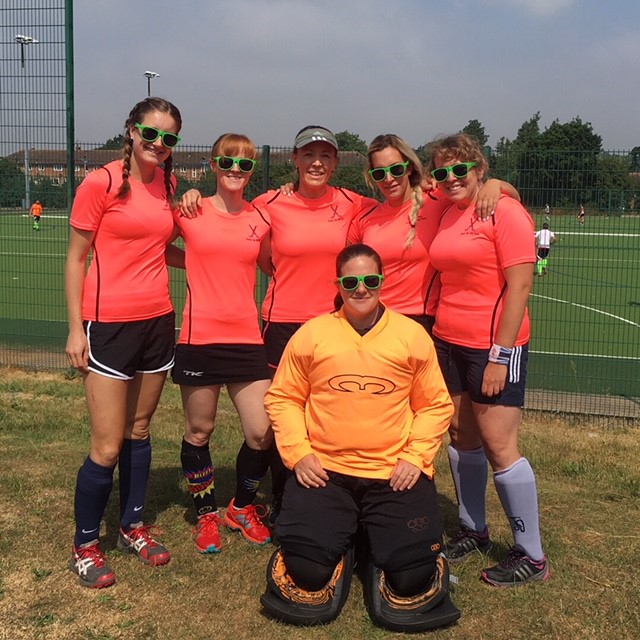 Surprise tournament victory for sponsored hockey team
A charity hockey team sponsored by Aldermans has claimed a surprise victory, against all odds, in a memorial tournament.  
The team of Derby University Old Girls – which included Aldermans' own Senior Buyer, Dee Brunt – was hastily mustered to take part in a tournament to honour the life of a fellow hockey player who had passed away the previous year.  Aldermans was more than happy to support Dee and friends by sponsoring the bright coral coloured team shirts for the occasion!
The Steve Dawes memorial tournament and family fun day was held on the weekend of 14-15 July at Redditch Hockey Club, Steve's home turf.  He had previously also been a Derby University student and was well known on the hockey circuit.
The Derby Old Girls hadn't played together for more than 10 years and had to scrape together a team of 7 by borrowing a player from another side.  Despite this, the team secured a clear run of five wins to take them to the final, where they faced the Old Halesonians Hockey Club, and scooped a 1-0 victory.  
Teams from Stourport, Droitwich, Redditch and Derby Old Boys also took part, helping the event to raise an impressive £2,500 shared between the Midlands air ambulance and the junior section of Redditch Hockey Club.
Next year the club hope to make the tournament even more of a success, and the Derby Old Girls plan to return to defend their title!
Pictured above: The Derby Old Girls team, with Dee second from left; and below, sporting the Aldermans sponsored shirts.