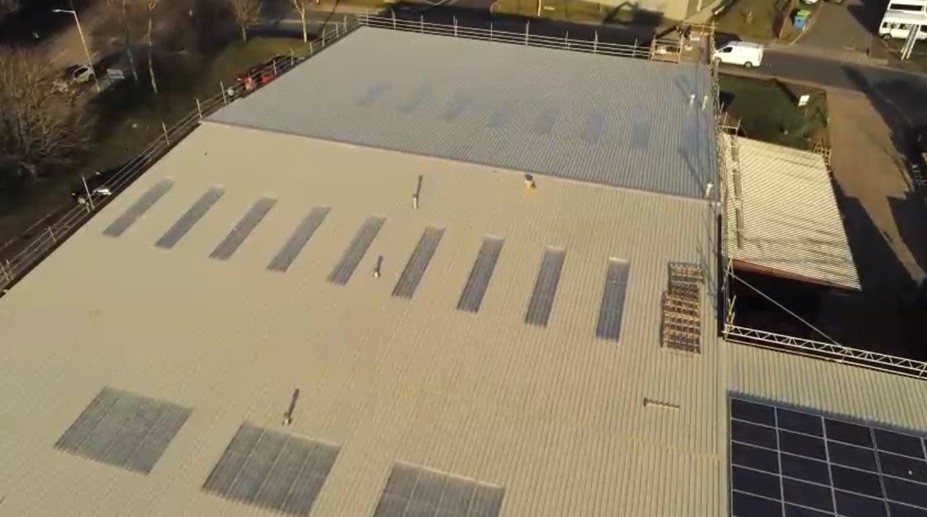 "High level" investment improves safety and energy efficiency
After 25 years at our factory in Bell Close, Plympton, the time finally came to commission a "high level" investment – some much-needed roofing renovation!
Normal wear and tear meant the corrugated fibre cement roof had begun to let the rain through. The tell-tale drips were not only unpleasant in the factory below, but also a potential slip hazard.
In November 2018 we engaged Mitie Tilley Roofing Ltd to completely over clad the existing roof.
Work began by temporarily removing our array of 86 solar PV panels, which were installed on a section of our roof in 2011. The contractors worked on that portion first, so that the panels could be recommissioned quickly.
With our large suite of energy-intensive machinery, controlling energy costs is always a key concern, for both our bottom line and our environmental impact. Two features of the roof renovation will significantly help our energy efficiency.
Firstly, a layer of thick fibreglass quilt insulation has been added between the old roof and the new, to achieve an overall U value of 0.18 in line with the Building Regulations. This will help to make the building warmer in winter and cooler in summer.
Secondly, the rooflights, encrusted with moss and algae, have now been replaced and additional new ones fitted into the over-clad roof. The whole factory is now lighter and brighter, which has improved the working environment and will also help reduce lighting requirements.
There has been some inevitable disruption during the work, including drips into the factory and office – not helped by the inclement weather prior to Christmas. Thankfully this is temporary, and the work will lead to a dryer, safer and more energy-efficient workplace in the long term.
All the work is due to be completed by the end of February. Thanks go to all our staff and visitors for their patience while our car park has been commandeered for scaffolding.