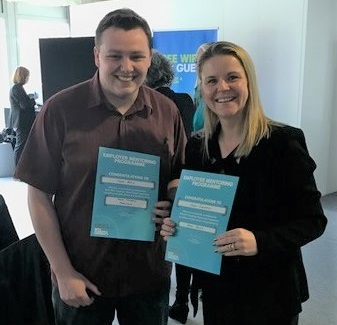 Karen's mentoring provides career boost for Plymouth student
Aldermans' MD Karen Friendship is always keen to encourage up-and-coming engineers in their chosen career, and has recently completed a first mentoring assignment with a Plymouth University student.
In the autumn of 2016 Karen signed up as a volunteer 'employer mentor' with the University's Careers and Employability Hub. The Hub helps students transition from university life to the world of work by providing career planning advice, developing employability skills, and finding work placements and part-time jobs.
The employer mentoring scheme pairs up students with local business leaders to provide career guidance and skills, and to help the student understand an employer's perspective. This is not a standardised programme, but is entirely tailored around the individual needs of each student.
Following a briefing in November 2016, Karen was assigned to mentor Kester Robins, a second year Manufacturing Design & Engineering student. Karen and Kester met six times between November and April, fitting the mentoring sessions around exams, holidays and work commitments.
During the sessions Karen and Kester discussed a range of workplace and employability skills, including how to develop a network of contacts; recruitment and management of staff; interview technique; and the importance of interpersonal skills.
Two of the meetings were held at the Aldermans factory in Plympton, where Kester had a tour of the shopfloor and learned about metal fabrication technologies.
On 25th April a celebration event marked the end of the programme; and Karen and Kester are pictured here receiving their certificates of completion.
"Taking part in this scheme has given a useful insight into the choices and issues facing university engineering students today," commented Karen. "I've done considerable work with secondary school-age children to promote STEM, but less so with undergraduates; so it's beneficial to extend my skills, and satisfying to provide guidance to someone like Kester who is so committed to a career in engineering. I wish him every success."