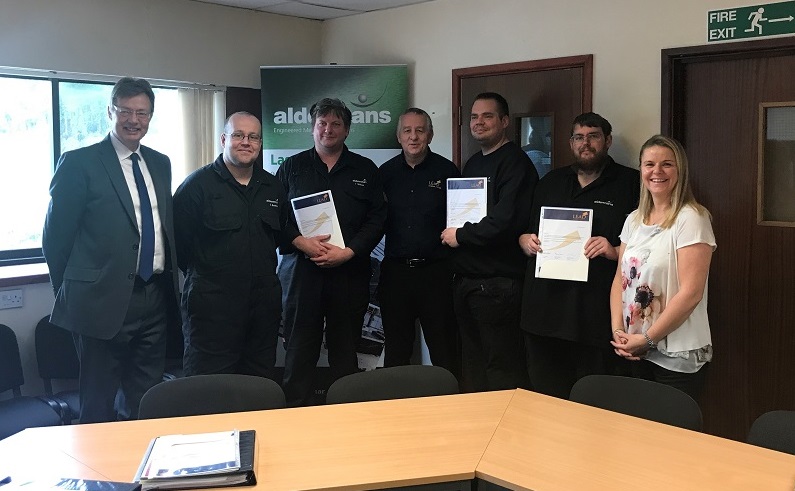 Second cohort celebrates business improvement training success
A second cohort of our staff has celebrated the successful completion of their Business Improvement Techniques Apprenticeship (NVQ Level 2).
Six of our team undertook the year-long programme which equips staff in 'lean' skills, enabling them to analyse and review work areas and working practices to maximise efficiency.
Once again Aldermans collaborated with other local SMEs to jointly commission the training.  This gave staff the opportunity to work in mixed teams, learning from each other, benchmarking, and strengthening relationships between companies.
The course was delivered by Kaizen coach Steve Grigg on behalf of LEAD (Lean Education and Development).  
To celebrate the team's success, a celebration pizza lunch was held on 19th May.  We were also delighted to welcome Gary Streeter, the Conservative parliamentary candidate who is defending his South West Devon seat in the forthcoming General Election, to present the team with their certificates.
Gary toured the factory with Aldermans' MD Karen Friendship, which included seeing our new Amada fibre laser cutting machine (pictured below); and the welding bay, newly reorganised thanks to the project work of the course trainees.
"Continuous improvement is a key part of both our strategy and culture here," commented Karen.  "We plan for all our staff to undertake this valuable programme; and a third cohort is now in training.  Thanks once again to Steve from LEAD for his support, and to Gary for taking the time to join us."