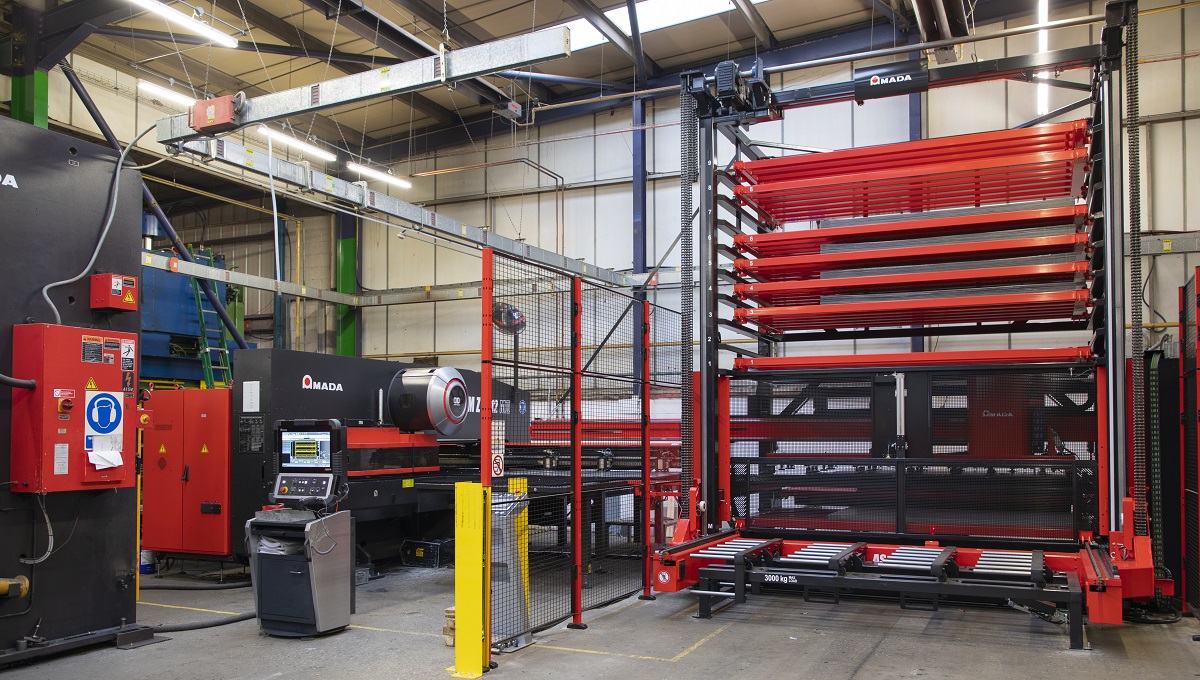 New investment speeds CNC punching
Our CNC turret punch is working harder than ever before. And now, it will have even less chance of a rest, thanks to the arrival of our latest investment: an automatic storage, loading and unloading tower.
The Amada AS III MP 300 stores up to 27 tonnes of sheet metal, with nine shelves each storing three tonnes. It will automatically feed the turret punch and change both the sheet and pallet shelf without human intervention.
This enables continuous running without manual reloads, allowing the turret punch to run overnight with ease. However, the machines will automatically stop if broken or unusable punches are detected, to prevent out-of-spec parts and wastage.
Furthermore, we can now batch products per shelf, enabling us to better store work ready for the next process.
In terms of its specification, the AS III MP 300 accommodates a sheet size of up to 3050mm x 1525mm, with 6mm thickness. It will typically load and unload a sheet in just 75 seconds, with the pallet and shelf changes occurring whilst the punching continues.
"We already have a similar tower on our fibre laser cutting machine, and it has proven to be essential to our efficiency," commented Operations Manager Shane Heaney. "So, we are confident we will now see the same operational benefits on the turret punch, helping us to better manage capacity and meet customer delivery expectations." With a strong order book, particularly for punched metal parts, the new tower could not have arrived at a better time. It is the latest in a series of new machinery investments, enhancing our scope and capacity so that we can offer the quality, price and speed that customers require.
Follow this link to watch the new tower in action >>
Read more about our CNC laser cutting and punching service >>