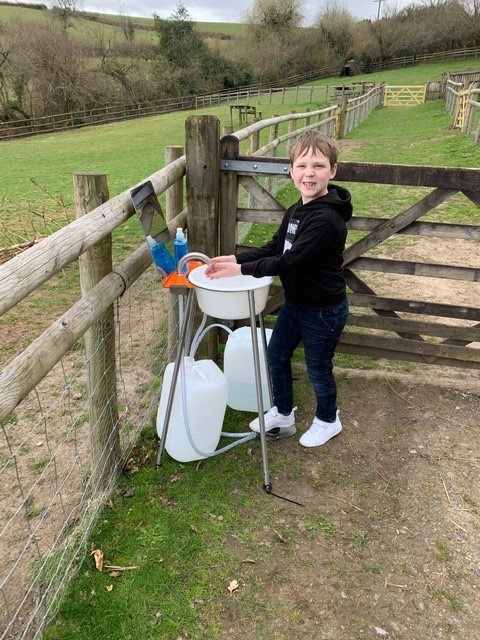 Jengu handwashing units now at Dartmoor's Miniature Pony Centre
The Miniature Pony Centre on Dartmoor, Devon has received a delivery of five of our Jengu portable handwashing stations, all set up and ready for its post-lockdown reopening on 12th April.
As well as helping in the fight against Covid, the sinks allow the Centre to provide easy-to-access handwashing facilities for visitors who have been in contact with the animals.
As the sinks require no plumbing, they have been deployed at key locations around the farm so that visitors can wash their hands regularly, wherever they may be. Some sinks have been placed close to animal enclosures, and one by the play area – but they can easily be moved if there is demand for them elsewhere.
The sinks are operated with a foot pump, so children and adults alike can enjoy hygienic no-touch handwashing. Washing with soap and water also provides the assurance of having clean hands without any sticky residue from hand sanitiser – especially helpful for picnickers.
Using portable sinks also helps reduce any queues for the toilet facilities, so visitors can spend less time queueing and more time enjoying the animals!
"We're delighted with Aldermans' handwashing units – they work brilliantly," commented General Manager Joanna Ginsberg. "We've deployed four around the site straight away, and we'll bring the fifth one into use as visitor numbers increase throughout the spring and summer.
"It's so good to be able to welcome visitors back to our amazing Centre. We've missed them, and so have the animals! Naturally, we are committed to keeping all our visitors safe, and we already have the Visit England 'Good To Go' approval. But we also want to ensure our guests can relax, make the most of their time and enjoy a fantastic day out. Reducing queues and providing great handwashing facilities is a vital part of the overall visitor experience."
The Miniature Pony Centre is open daily until 31st October 2021, with animal activities, children's entertainment, play areas, nature trails and lots of open space to enjoy.  For more information visit https://miniatureponycentre.com/